In 1935, the two engineers, Børge Aagaard Nielsen and Carl Schrøder, founded the company, Radiometer, to develop measuring devices for the growing Danish radio industry.
A few years later, Radiometer was contacted by the Carlsberg laboratories and asked to develop an analytical device for the detection of the acid-base (pH) level in liquids. This soon resulted in the first commercially available pH meter. 
In 1952, as the polio epidemic swept across Europe, many children were at risk of respiratory failure. The head of laboratory, professor Poul Astrup, and anesthesiologist Bjørn Ibsen discovered the right diagnosis by measuring the pH value in blood using Radiometer's pH meters.
This ground-breaking discovery soon formed the basis for Radiometer's entry into medical technology and further innovations within acute care testing. 
Radiometer remains committed to being a leader in acute care testing technology.
Our product innovations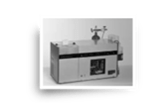 | | | |
| --- | --- | --- |
| 1954 |   | Astrup - Invention of the first commercially available blood gas analyser |
| 1973 |   | ABL1 - World's first automated blood gas analyser |
| 1989 |   | ABL500 - World's first combined blood gas and CO-oximeter analyser |
| 1998 |   | ABL700 - World's first blood gas analyser with bilirubin and automated quality control |
| 1999 |   | RADIANCE - STAT data and analyser management system |
| 2001 |   | TCM400 - First multichannel transcutaneous oxygen monitoring system |
| 2004 |   | NPT7 - Cassette-based analyser based on breakthrough dry optical technology |
| 2004 |   | ABL800 FLEX analyser - Automated benchtop blood gas analyser with superior analytical performance |
| 2005 |   | 1st Automatic - World's first automatic blood gas system, simplifying the process from test order to reported results |
| 2008 |   | AQT90 FLEX analyser - Compact immunoassay analyser offering lab-quality results for cardiac markers in 20 minutes |
| 2009 |   | ABL90 FLEX analyser - Next-generation cassette-based analyser with 17 parameters in 35 seconds |
| 2012 |   | AQURE - Open, smart, integrated point-of-care management system |